Ooooosh! MOTT! Shit-TING! and lots of other random sayings said in a Leeds ( I think it's Leeds ) accent. Do they make sense to you? If so, then you are already aware and probably a fan of Comic Creation "Keith Lemon". If you have no idea what I'm talking about, then keep reading you'll recognise him from the Photo. This Guy is EVERYWHERE!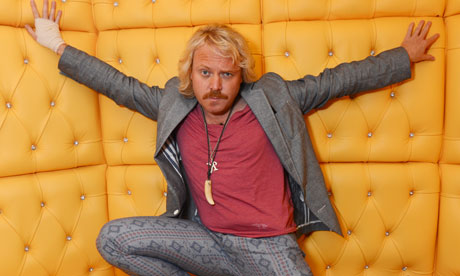 Ok, Now before anybody reading this is expecting me to go on some kind of critical abusive rampage best stand back, because that is not what I am going to do. From the outset, I am a big fan of "Keith Lemon" I find his creation, jokes ( even though he's not a stand up comedian ) and TV projects extremely funny, clever and topically brilliant. I just think that this is something that Works.......But shouldn't.

Now comedy is very subjective, people like what they like. You may love Dick and Fart jokes but hate jokes which are dry and witty. or Vice Versa. making people laugh is obviously one of the hardest things to do as some people make it hard for you to make them laugh.

Let me take you back to early 2000's when the first of Leigh Francis's creations was thrust upon the world. "Avid Merrion" a Celebrity Stalker who pestered Celebrities such a Ex Big Brother contestants ( Especially Craig from BB1 ) and made a late night Channel 4 show which looked like it was shot on no budget. The show "BO Selecta" gave birth to great masked creations such as "Craiiiig Daaaavid" "Micheal Jacko" and "Scary (oooh crab paste) Spice" which really gathered a cult status from the outset.



Moving on from "Avid Merrion" he pushed forward with "The Bear" and his other masked creations which set him up for the late night Channel 4, Post Pub, Beer and Pizza Following. A Nice gathering of fans who will constantly recite your catchphrases down the pub and via facebook status's.

BUT Leigh Francis managed to do something, I don't even think he imagined he could do. He went

PRIME TIME!


No prime time in my eyes is when you suddenly get thrust upon an audience of the masses out of your comfort zone. Think of prime time as Ant n Dec territory! A Place where Mums and teenage girls can find you and judge you.



Celebrity Juice, the Celeb based Panel Show Keith Lemon presents, went from being a cult show on

itv2

to being one of it's flagship shows and even opening up doors to prime time TV He basically is able to present a Show where he pretty much sits down making jokes about Holly Will-o-Boobys tits and Fearne Cottons massive nostrils, whilst always making rude, crude and downright misogynistic remarks to these ladies and the ladies who appear and Get away it!

How DOES Keith Lemon get away with blindfolding a Female celebrity, asking them to remove a straw from a cup using only their mouths, but in the process placing a giant Dildo in the middle for them to lick instead.





NOW Don't get me wrong, I Love his wild antics, I believe the main reason they work on the balance of being funny and not offensive is simply because of the celebs who are in on the joke. With them playing along, it makes the whole thing seem a lot more funnier and not vindictive or offensive.

Celebrity Juice aside, Leigh Francis has managed to get "Keith Lemon" exposure via other outlets. DAYTIME Telly! This blows my mind! How Somebody who only the night before, after the watershed, was simulating eating out one of the spice girls and talking about rubbing jizz over his stomach, was on THIS MORNING presenting a segment on Fashion or something! HOW ?!





Keith Lemon has appeared on many Day Time shows including "Loose Women" and I'm pretty sure he's been some kind of Alan Titchmarsh show. He has somehow created such a vulgar character that not only is rude, offensive and hilarious, but also a favourite with Housewives and Teenage girls.

I reckon the a fair share of his fan base are female, and how ever he managed to do it, I salute him!



Whether you like Leigh Francis or not, He sure does deserve much more respect as NOT only a great comic actor/creator but a very good business man in the entertainment industry.


OOOSH!